High Hopes for Hope High 
---
2012 Recipients - Celebrating Their Success!
You helped make their college dreams reality!
Congratulations to all!
As our first recipient group ( left to right ): Alexia, Kristy, Angeline, Alaina, Christian, and Angeline hold a special place in our hearts and efforts.
They cannot thank you enough for believing in them.
HHDfS is  proud to share the achievements of our 2012 scholarship recipients. 
Alexia Arriza - graduated University of Rhode Island, December 2015 with a Bachelor of Arts degree in Political Science and Spanish.  Alexia is currently working at Horton Interpreting Inc. as a medical interpreter and plans to pursue a Masters in Spanish.
Kristy Berdugo - began University of Rhode Island as a chemistry major, but fell in love with animal science.  Kristy will graduate May 2017 with a Bachelor of Science degree. She hopes to work in a research lab or pursue a veterinary degree upon graduation.
Angeline Gwein - is a May 2016 graduate of La Salle University in Philadelphia, PA with a major in psychology. She is employed by APM PHILA as a case worker supporting families moving through the court system. 
Alaina Moise - attends Ithaca College majoring in Applied Psychology with a Pre-Med concentration.  Alaina will graduate December 2016 with plans to apply to dental school.
Christian Velasquez - graduated University of Rhode Island May 2016 with a Bachelor of Science Degree in Human Development and Family Studies and minors in Psychology and Spanish.  He is currently employed by City Year, Providence, RI as a mentor/tutor for at-risk students.  He plans to pursue a Masters in Psychology.
Kayla Zarzuela - is currently a 5 year undergraduate at University of Rhode Island with a double major, maintaining a 3.00 GPA. Kayla will graduate May 2017 and is looking to pursue a  graduate program in social work.
***
A Most Special Evening with Pawtucket's  "Boys of Summer"
Wednesday, June 22 was a perfect start-of-summer evening, temp in the 70s, and crystal clear skies with an occasional breeze ; an evening tailor-made for a baseball game.  Thanks to the gracious invitation by Marc Paulhus, President, Citizens Bank of RI and Brooke Havens, VP/Sr. Public Affairs Market Manager, RI, eighteen Blue Wavers, including 2016 Hope High Dollars for Scholars (HHDfS) scholarship recipients, Hope Class of 2017 students were treated to an extra special night of Paw Sox baseball.
"We felt like celebrities! We got to walk on the field, were introduced to Pitcher Pat Light, hung with the mascot, had photos taken, and enjoyed the game and dinner with Mr. Paulhus in the Citizens' box, " shared Raymond Perez, Hope 2016 scholarship recipient.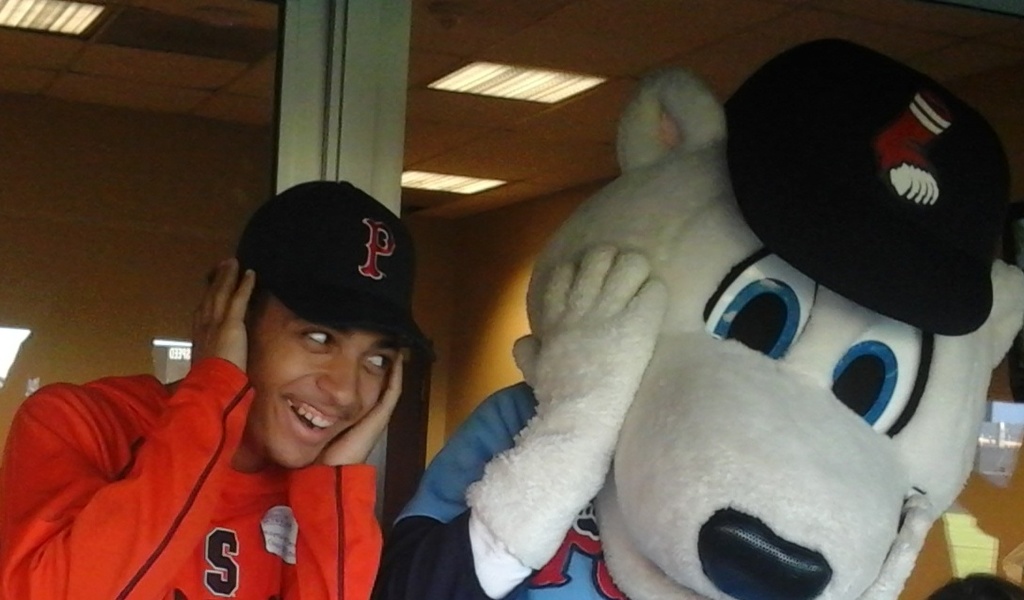 "Just so fun."
"I had so much fun and got to meet some great people. Thank you, Mr. Paulhus. You made me feel so special," echoed Hafzat Akanni, another 2016 Scholarship recipient.
"This evening was so memorable for all of us. We so appreciate the support and goodwill Hope Dollars for Scholars has received from Marc Paulhus and Citizens Bank.
Their generosity has made a difference in lives of deserving Hope students, " said Christina Ricci, HHDfS VP of Fundraising.
The Paw Sox, behind for seven innings, came back in the eighth for a 4-4 tie with Syracuse, but two runs in the ninth gave the game to Syracuse. No matter the final outcome, our score for the Paw Sox and Marc Paulhus - perfection! Thanks for the best summer evening!
***
Forty Thousand Dollars in Scholarships Presented At Our 2016
Hope High Dollars for Scholars®  Awards Dinner
"This event has to be the best event for inner-city scholars that I have ever attended. Hope High School Dollars for Scholars allowed these deserving young people to be treated as they should. Our community has so much promise and events such as yours allowed community leaders like me to know that "Hope" is real and alive within our city!"
Kobi Dennis, Community Leader, Providence, RI.
THIS WAS THE BEST NIGHT OF MY LIFE!
"Thank you so much for believing in me."............Hafzat Akanni
"Thank you for helping me achieve academic success."............Chanda Nuth
"Thank you so much for your generosity."..........Raymond Perez
"Thank you so much for your kindness.  I really appreciate it.".......Jennifer Quenes
"Thank you for all you do for our Hope Students!"............Diane West, Guidance
I was so moved by this celebration that I hope to be on the invitation list for years to come.".....Our Featured Dinner Speaker, Bill Reynolds, Author:
2016 Hope High Dollars for Scholars Award Winners

L to R:   Raymond Perez, Hafzat Akanni, Blanca Colato, Chanda Nuth, Evangeline Bemah-Stokes, Jennifer Quenes, Tempestt Spivy;
Back:     Austin Forestier, Jessica Dough

These joyous words truly captured the celebratory emotions we all felt at the third annual Hope High Dollars for Scholars May 16 Awards Dinner. More than 150 attendees, including scholarship recipients and families, donors, sponsors, community leaders, and HHDfS Board members, packed the Shriners Imperial Room to honor nine 2016 scholarship recipients.  
Hope High Dollars for Scholars® (HHDfS), an affiliate of Scholarship America, held its Third Annual Awards Dinner on May 16, 2016 at the Shriners Imperial Room, Cranston, RI. More than 150 guests congratulated nine of eleven Hope seniors who received a total of $40,000 in scholarships and laptops. Samsonite donated backpacks as a special gift to the recipients.  Needless to say, the laptops and accessories were a big hit!  Since its inception in 2011, HHDfS has awarded $100,000 in scholarships and programmatic support to 42 deserving Hope seniors and the school.
Bill Reynolds, an award winning Providence Journal sports columnist and author of Hope: A School, A Team, A Dream was the keynote speaker. He spoke about Providence, a city clearly defined by class differences, about his experience in documenting the 2012 basketball team, about the unwavering dedication and struggles of its coaches, and about kids with talent and love of the game who face daily challenges and odds most of us cannot begin to imagine. "I entered Hope as a writer looking for a story about basketball.  I left Hope with a story about so much more."
Within the halls of Hope High, there are many talented and accomplished students who want to achieve great things and positively impact the future of the city or even the world, students like Hafzat Akanni. Hafzat, the 2016 Louis B. Mendelsohn Entrepreneur Award recipient said, "I believe in lifting America from a sea of racial inequity to an elevated platform of unity and righteousness."
Our Four Year Renewable Scholarships:
"HHDfS, along with Scholarship America®, believes education changes the lives and powers economic prosperity for all. An important metric for our educational system is college completion rates. Financial challenges can often impede students from completing college, so our ongoing strategy is to fund more renewable scholarships that guarantee four years of financial support." Jane Bermont, President, HHDfS.
The Louis B. Mendelsohn Scholarship, awarded each year since 2011, was presented by Lane Mendelsohn, Vice President, Market Technologies, LLC, to Hafzat Akanni who will attend Boston University as a journalism major. As Lane remarked, "My dad's enthusiasm and dedication to Hope High School has inspired me to continue the Mendelsohn family's support for this special scholarship; we hope to inspire other businesses to do the same."
In its third year, The Class of 1962 Award was presented by Jerry Chorney, Hope '62, to Raymond Perez who will attend Syracuse University as an occupational therapy major. Raymond, a stand-out Hope basketball player, coached Special Olympics Basketball and found his passion. "I loved this coaching experience because I could use one of my talents to give back to autistic teens."
Two new renewable scholarships were presented.  The Class of 1965 Award was awarded to Evangeline Bemah-Stokes by Tom Aquino, Hope '65. She plans to major in law and politics at Rhode Island College. "I have a passion for the history of African-Americans and I am determined to keep that passion at the center of my education and career." Blanca Colato, received the Norton "Nocky" Rappaport Memorial Award from Steven Rappaport, Hope '67. "My family cannot imagine a better way to honor our father and give back to the school he loved." Blanca will use this scholarship to study at CCRI and pursue social work. "I love kids. They bring happiness into my life."
Our One-time Awards:
Myra K. Latimer presented a special award honoring her son who, at age 24, was a victim of violence. Austin Forestier received the Steven K. Latimer Memorial Award. "Austin is a survivor of a violent community," Myra said, "and helping kids like Austin is how I give back."  Austin will pursue journalism and criminal justice at Rhode Island College.
Ann Salk Rosenberg, HHDfS Awards Committee Chair, presented four $1000 awards to Hope seniors Chanda Nuth, Jennifer Quenes, Jessica Dough, and Tempestt Spivey.
Our Sponsors:
Citizens Bank and Nortek topped the list of corporate sponsors, along with many other businesses and individuals who share our mission. "Education is one of the best ways to support the community," said Amy White, Nortek's Director of Communication. "Nortek is pleased to partner with other supporters to make college possible for so many deserving students from Hope High."
 "I'm an annual sponsor of HHDfS because I see the dedication of the people behind the scenes and the impact it has on the lives of young students who might otherwise be faced with yet another obstacle in their academic lives. Great people who do great things that simply work!"  Anthony Roberson, Detective, Providence Police Department.
******************************************************
 Hope High Dollars for Scholars ®
Greater Providence Business Leaders Scholarship Program (GPBLS)
This is a great opportunity for area businesses to support college scholarships for Hope seniors who need your help. We make it easy to participate with three options: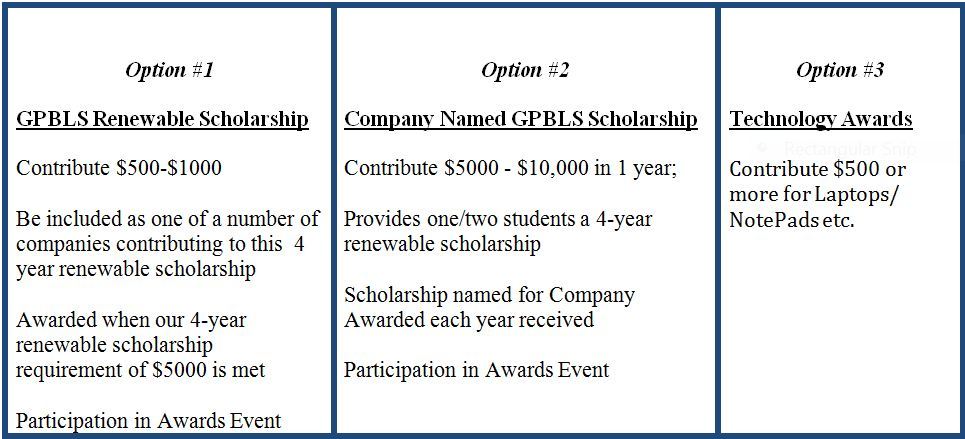 Louis B.  Mendelsohn, CEO of Market Technolgies,LLC,  shares his experience and views on business participation.
Ultimately, sustaining and growing a business depends on quality employees and a growing customer base. Through HHDfS, our community has an opportunity to strengthen our future by supporting well-educated employees and potential leaders for the next generation.  What better way to support the RI business ecosystem than to help capable, financially-challenged Hope High seniors further their education.  Program details click here!
For more information about this program, please contact:  Christina Ricci, Fundraising Chair: 617-833-1611 or cpricci1@gmail.com.
***********************************************************************
Hope High Dollars for Scholars®
2015 -16
GoFundMe/Laptop Campaign
Hope High Dollars for Scholars® raises money so that deserving Hope seniors can attend college.  We want to help them, not only with tuition costs, but also with an essential tool for success - laptop computers!
Last year we were able to provide three college bound seniors with new laptops. "Yes the lap tops were a huge hit! I spoke with one of the recipients after receiving his. He was nearly in tears. He gave thanks over and over!!" said Tom Aquino'65/Networking Chair who awarded the laptops at Hope Honors Night last May.
We'd like to give several more this year with your help!
For more information and to donate click here:  https://www.gofundme.com/hhdfs15.
*******************************************************************
Purchase tickets to great events from tix4cause!   
If you have tickets to events that you will not be using consider  donating them on tix4cause.
When you register with tix4cause select  Hope High Dollars for Scholars as your cause and we will receive a portion of every sale and purchase.  When you donate your tickets, your value is tax deductible.