High Hopes for Hope High 
---
Announcing Our 2016-2017 Annual Appeal
It's that time again!  
We hope you will join the generous Hope alumni and friends who are providing the most valuable gift by donating the gift of possibilities - the possibility to be the first in their families to attend college; the possibility to find their life's passion; and, perhaps most important, the possibility of hope for a bright, meaningful future. 
We are excited to report that five of our 2012 scholarship recipients have graduated! They are working in fields related to their majors, and some have plans for graduate school. The sixth found her passion for animal science, changed her major, and will graduate May 2017. Their stories are below.
Since 2012, 42 Seniors have received over $100,000 in scholarships thanks to our generous donors.
While we are proud of this accomplishment, our work requires ongoing commitment. Our chapter goal is to increase the number and dollars for four year (renewable) scholarships which significantly improve graduation rates.
If you have donated before, we again thank you for joining us in our mission. We hope you will match or increase your past donation to acknowledge the accomplishments of our talented students!
If you have not donated before, please consider donating this year. All donations are greatly appreciated. 
Please click here  to donate or mail your check, payable to Hope High Dollars for Scholars to:
Barbara Shapiro, Treasurer
c/o HMS Financial Group, Suite 210
333 Elm Street
Dedham, MA 02026
As an all-volunteer board, we are always interested in seeking new volunteers to work with us. There are many ways to participate. Please contact Christina Ricci Email: cpricci1@gmail.com or by phone 617-833-1611.

***********************************************************
Our 2012 Recipients Have Graduated from College - Celebrating Their Success!
You helped make their college dreams reality!

Pictured left to right:
Kristy Berdugo, Alexia Arriaza, Christian Velasquez, Kayla Zarzuela, Alaina Moise, Angeline Gwein
Congratulations to all!
Our first recipient group holds a special place in our hearts.
They cannot thank you enough for believing in them.
HHDfS is  proud to share the achievements of our 2012 scholarship recipients. 
Alexia Arriaza - graduated University of Rhode Island, December 2015 with a Bachelor of Arts degree in Political Science and Spanish.  Alexia is currently working at Horton Interpreting Inc. as a medical interpreter and plans to pursue a Masters in Spanish.
Kristy Berdugo - began University of Rhode Island as a chemistry major, but fell in love with animal science.  Kristy will graduate May 2017 with a Bachelor of Science degree. She hopes to work in a research lab or pursue a veterinary degree upon graduation.
Angeline Gwein - is a May 2016 graduate of La Salle University in Philadelphia, PA with a major in psychology. She is employed by APM PHILA as a case worker supporting families moving through the court system. 
Alaina Moise - attends Ithaca College majoring in Applied Psychology with a Pre-Med concentration.  Alaina will graduate December 2016 with plans to apply to dental school.
Christian Velasquez - graduated University of Rhode Island May 2016 with a Bachelor of Science Degree in Human Development and Family Studies and minors in Psychology and Spanish.  He is currently employed by City Year, Providence, RI as a mentor/tutor for at-risk students.  He plans to pursue a Masters in Psychology.
Kayla Zarzuela - is currently a 5 year undergraduate at University of Rhode Island with a double major, maintaining a 3.00 GPA. Kayla will graduate May 2017 and is looking to pursue a  graduate program in social work.
******************************
 Hope High Dollars for Scholars ®
Greater Providence Business Leaders Scholarship Program (GPBLS)
This is a great opportunity for area businesses to support college scholarships for Hope seniors who need your help. We make it easy to participate with three options: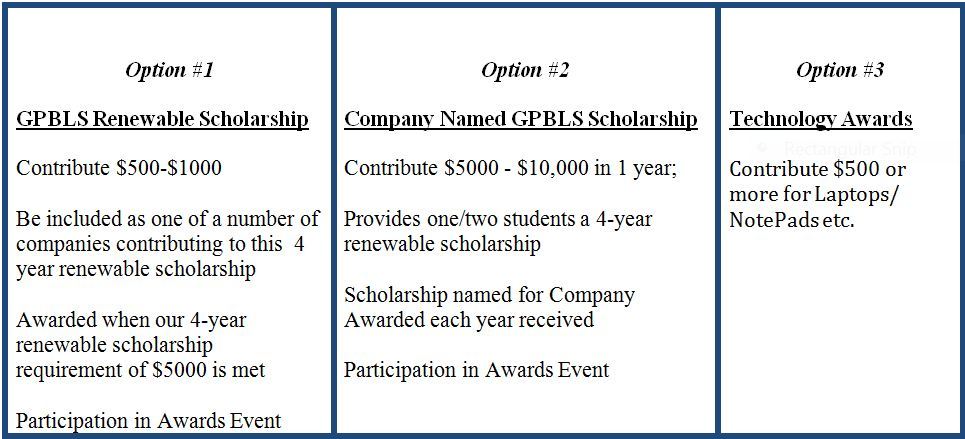 Louis B.  Mendelsohn, CEO of Market Technolgies,LLC,  shares his experience and views on business participation.
Ultimately, sustaining and growing a business depends on quality employees and a growing customer base. Through HHDfS, our community has an opportunity to strengthen our future by supporting well-educated employees and potential leaders for the next generation.  What better way to support the RI business ecosystem than to help capable, financially-challenged Hope High seniors further their education.  Program details click here!
For more information about this program, please contact:  Christina Ricci, Fundraising Chair: 617-833-1611 or cpricci1@gmail.com.
******************************
Support Hope High Dollars for Scholars when you shop at Amazon. 

Amazon donates a small % of every purchase you make.
Click here to get started!
***
Purchase tickets to great events from tix4cause!   
If you have tickets to events that you will not be using consider  donating them on tix4cause.
When you register with tix4cause select  Hope High Dollars for Scholars as your cause and we will receive a portion of every sale and purchase.  When you donate your tickets, your value is tax deductible.