High Hopes for Hope High
*****************************************************************************************
THE SEASON & REASON FOR GIVING
It has been an incredible 10 years - $363,000 in scholarships awarded to 98 Hope seniors. In our eleventh year, we will award scholarships to another ten deserving Hope students in May 2022.  
This year, please consider a donation to our HHDfS Endowment Fund housed at the RI Foundation    We have two years to raise $80,000 to meet our $500,000 goal.  And we'll be thrilled if we exceed it.
It is our ongoing challenge that we ensure that HHDfS continues to make a difference in the lives of future Hope High students in perpetuity - an enduring legacy for us all.
ELEVEN YEARS
OF
SCHOLARSHIPS!

Dear HHDfS Alumni & Friends,
I am the School Counselor for the 2022 senior class. They are an incredibly special group of students. They are excited to be in school full-time, excited to be with their friends, motivated to learn and succeed - just a pleasure to know and help with their questions and challenges. I am so fortunate.
 
Many are looking into colleges and determined to continue their education. In October, we held our annual College Fair. The turnout was amazing! So many seniors spent time learning about Hope High Dollars for Scholars and plan to apply for scholarships. I think this might be a record year for HHDfS applications.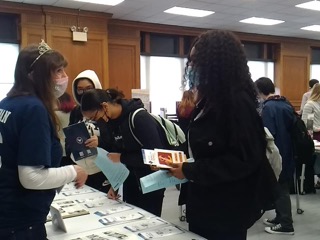 Hope College Fair 2021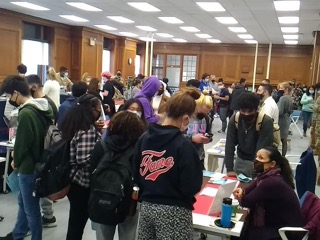 I want to thank all the incredibly generous HHDfS donors. You've made it possible for 98 Hope seniors to live their college dreams. 
 
My eleven year partnership with HHDfS has been a joy. Thanks to all HHDfS Board members for their dedication to Hope students.
 
Best,
Lynn Harrigan
Hope Guidance Department
 
Please join us now by contributing to the 2022 HHDfS Annual Appeal and/or the HHDfS Endowment Fund. 
 And, if you are able, please give a bit more this year - so many Scholars and their families continue to struggle with the financial impact of the pandemic.
---

DO YOU KNOW ABOUT THE 
HHDfS ENDOWMENT FUND?
If you are interested in learning more about the HHDfS Endowment Fund at the RI Foundation and how you can help provide scholarships in perpetuity for future Hope seniors, information is available HERE  -- or contact
Jane Bermont, jbermont@aol.com, 617 686-9158.
Hope High Dollars for Scholars is a chapter affiliate of Scholarship America, a nationally recognized non-profit student aid organization.  We are a 501(c)(3) tax-exempt scholarship foundation, established in February 2011 and are operated by an all-volunteer Board of Directors.

Our mission is to expand access to educational opportunities for Hope High School students by supporting college readiness programs and by providing scholarships & laptops to graduating seniors for post-secondary education.