Don't miss the party! Register Now!
Summer Soiree
Edgewood Yacht Club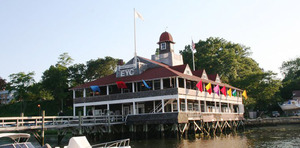 Enjoy a casual summer evening with Hope alumni and friends!
Delicious Hors d'oeuvres
Cash Bar
(Must be at least 21 years old to attend.)
We are thrilled to invite you to the historic, beautiful Edgewood Yacht Club for our summer alumni party!
Reconnect with Hope classmates. Meet our wonderful Hope scholars. 
Invite friends for a mini-reunion!
"We look forward to seeing you!"  Nancy Hawksley & Jerry Chorney, Hope Alumni Party Co-Chairs
MONDAY, AUGUST 5, 2019
Edgewood Yacht Club
3 Shaw Avenue
Cranston, Rhode Island
TICKETS: $50.00
Don't forget to register before August 1!
Capacity is limited. You don't want to miss the party!
*To register by check, contact
Nancy Hawksley:
nancy.hawksley@gmail.com
Questions - Call Jerry Chorney
401-837-0355
Event proceeds will support Hope High Dollars for Scholars.
If you cannot attend, but would like to make a donation, click here
We hope to see you there!
************************************************
"A Most Special Evening"
May 14, 2019
"Inspiring Hope"
12 Hope High Scholars received $67,000 in scholarships plus laptops and backpacks!
2019 Scholars
(alphabetical) Miguelson Bouzy, CCRI; Dawry Canela, New England Tech;
Ashley Charles, URI; Armani Fernandez, URI; Mariana Guerrero, MA College of Pharmacy;
Militza Hernandez, Barry University;  Ianique Imboque, RIC; Marianella Galan, URI;
Rosa Rodriguez Ortiz, RIC; Eveline Silva, Brandeis;
Destiny Tavares, Landmark College; Jose Zuniga, Johnson & Wales
Past Scholar Speaker
Pascaline Uwase, URI Senior, Engineering Major,
2015 Scholarship Winner
Scholars and Guests - Enjoying This Special Evening
"Thank you to everyone who shared in this celebration dinner and
helped us honor these very special 2019 Hope High Scholars!
Thank You to Our Scholarship funders:
 Lohengrin Foundation
     Ruth & Samuel Markoff Fund
         Tommy Feldman Donors
              Marilyn & Jodi Greenberg
                   Patricia Houlihan Donors
                         Donald Salmanson Family 
                               Hope Class of 1962      
                                    Hope Class of 1965                                                            
                                         Hope Class of 1967
                                               Hope Class of 1969
                                                    Our Wonderful Alumni+Friends
Thank You to Our Generous Dinner Sponsors:
Silver
RD&C Attorneys at Law
Bronze
Ameriprise Financial
Big Blue Bug
Pastiche
Samsonite
With Appreciation:
Melinda Guglielmetti - Event Decor Stylist
                      Hillary Williamson & Staff -  Shriners Imperial Room
                            Mary Murphy -  Event Photographer
                                         Marybeth McGovern -  Scholar Photos
                                                        Justin Cohoon - Pianist
***************************************************
Join Us &
YOU'RE INVITED...
HHDfS AWARDS DINNER!
TUESDAY, MAY 14, 2019
SHRINERS IMPERIAL ROOM
ONE RHODES PLACE
CRANSTON, RI
4:45 MEET AND GREET
5:30 DINNER & PRESENTATIONS
*To register by check, contact:
Nancy Weisman Hawksley, HHDfS Board Member, Hope '66
nancy.hawksley@gmail.com
**For information about Business Sponsorships, contact:
Christina Ricci, HHDfS VP & Fundraising Chair, Hope '65
617-833-1611
cpricci1@gmail.com