HOPE MATTERS!
Its success depends on you!
 
Like our 2019 Scholars pictured, our 2020 Scholars need you!
HHDfS and Matt Buchanan, Principal, Sponsor Scholar/Senior Meeting 
On January 7, more than fifty Hope seniors gathered in the school library to learn more about Hope High Dollars for Scholars scholarships and to hear personal stories from five Hope Scholars about their college experiences.
Prospective scholars listening intently to HHDfS Scholars,
                        Raymond Perez, Hope '16, Syracuse University, Senior             
 Lisa Cid Mota, Hope '17, URI, Junior
Pascaline Uwase, Hope '15, URI, Senior
Valentina Gomez, Hope '17, RIC, Junior
Yael Torres, Hope '18, CCRI, Sophomore
who were excited to return to their Alma Mater to "Pay Forward" their advice about college.
You could hear a pin drop as each Scholar emphasized the same message - "Go for your college dream no matter your challenges.  We did it. You can, too!" That same day more than 30 Hope seniors began the HHDfS scholarship application process and more are expected to apply.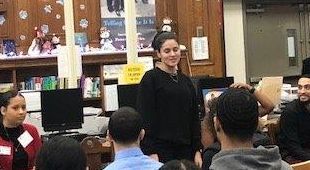 The Scholars offer sage counsel:
"There's a lot of free time between classes, BUT don't waste the time. It's not like high school. College profs take deadlines seriously."
"Make sure that your professors get to know you. Take advantage of their office hours. Don't just be a name, particularly since required classes have hundreds of students."
"Ask questions. Get help. I went for tutoring everyday."
"I had all A's at Hope. But not in my first year in college. I was stunned at first. I had to get help and learn how to study better. It paid off."
Hope Matters!
Support deserving 2020 Hope seniors who are determined to pursue a college education.  Your investment in Hope students will reap so many rewards.
 ****************************************************************************
Yes! Hope Matters...
how your donations make a difference -
from our past scholars...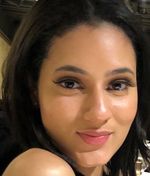 My HHDfS award gave me hope and continues to inspire me to keep pursuing my education. Going to college is a tough decision, especially when there are financial barriers. Luckily, HHDfS is there to help students like me overcome that barrier and makes it possible for our college hopes to happen.   
Valentina Gomez, RIC Junior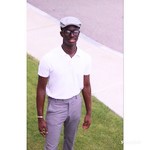 I am very grateful for the opportunities that my Class of '62 Scholarship gave me. This semester, especially, my scholarship was critical in allowing me to continue my studies. I hope HHDfS continues to help future Hope High students the same way it has helped me. A special thanks to all of the donors and a huge shout out to the Class of '62!!!!
Mohamadou Mbaye, Boston College Sophomore

---
Hope for college
Hope for a meaningful future
Despite incredible odds with
fortitude, grit - our amazing
Scholars -  Hope Matters!
---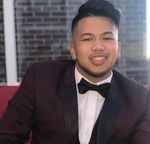 My parents dreamed of me being the first in our family to go to college.  It was also  my dream. Thanks to my Tommy Feldman Scholarship, our dreams were  fufilled and my hope for a career in finance, as well.
Dylan Vongkaisone, URI Sophomore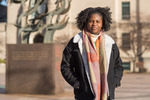 My scholarship means an opportunity to push forward. Hope High Dollars for Scholars believed in my ability to succeed. My scholarship allows me to pursue my dreams. When I lack hope, I am reminded through my scholarship, that I am capable of striving forward.
Hafzat Akanni, Boston University Senior & President, BU Student Government 
 
Our HHDfS scholarships mean so much to us.  Please continue to affirm that Hope Matters for the 2020 Scholars and donate to the HHDfS Annual Appeal!
Thank you,
Valentina, Mohamadou, Dylan, and Hafzat
**********************************************************************
To donate by check, payable to Hope High Dollars for Scholars:
Barbara Shapiro,Treasurer
c/o HMS Financial Group
333 Elm St., Suite 210
Dedham, MA 02026
With your support, Hope High Dollars for Scholars will continue to inspire hope for deserving Hope High graduates - opening up the world and enabling them to become productive, engaged members of their communities.